Warning, this post is super pic heavy! I had a very hard time deciding which photos I liked best and thus ended up liking too many.
Nail Polish Canada is having a Summer Nail Art Challenge that involves prizes and stuff and I decided to participate! Make sure to check out the link and vote for your favorite. (Of course I'm hoping you'll choose me, but tons of talented artists participate in these so it will be a tricky decision!) I had a few summer manicures up my sleeve that I haven't posted yet, but when this idea came to mind, I knew it was "the one." Fireflies! Nothing represents the beginning of summer quite like those first fireflies that appear when it starts getting warm. I didn't see a firefly in real life until I was 13, but even then I understood their iconic meaning. I'm hoping you're allowed more than one entry, because I also have a beach-y manicure I am quite proud of.
First I sponged a night sky gradient, much like my Stormy Night manicure from June. Then I used a more casual version of the "waterfall" technique that I learned from Chalkboard Nails to make the grass. My favorite part of the grass is the new holographic polish I just bought from Chirality Polish. It's called Kale and I LOVE it. This was my first indie polish purchase and I'll have to do a haul post next. She has some really interesting glitters in a chunky base and I'm pretty excited to use ALL of them. Although as fun as glitters are, I always go back to my trusty nail art. Perhaps I need to get better about skittles so I can incorporate both!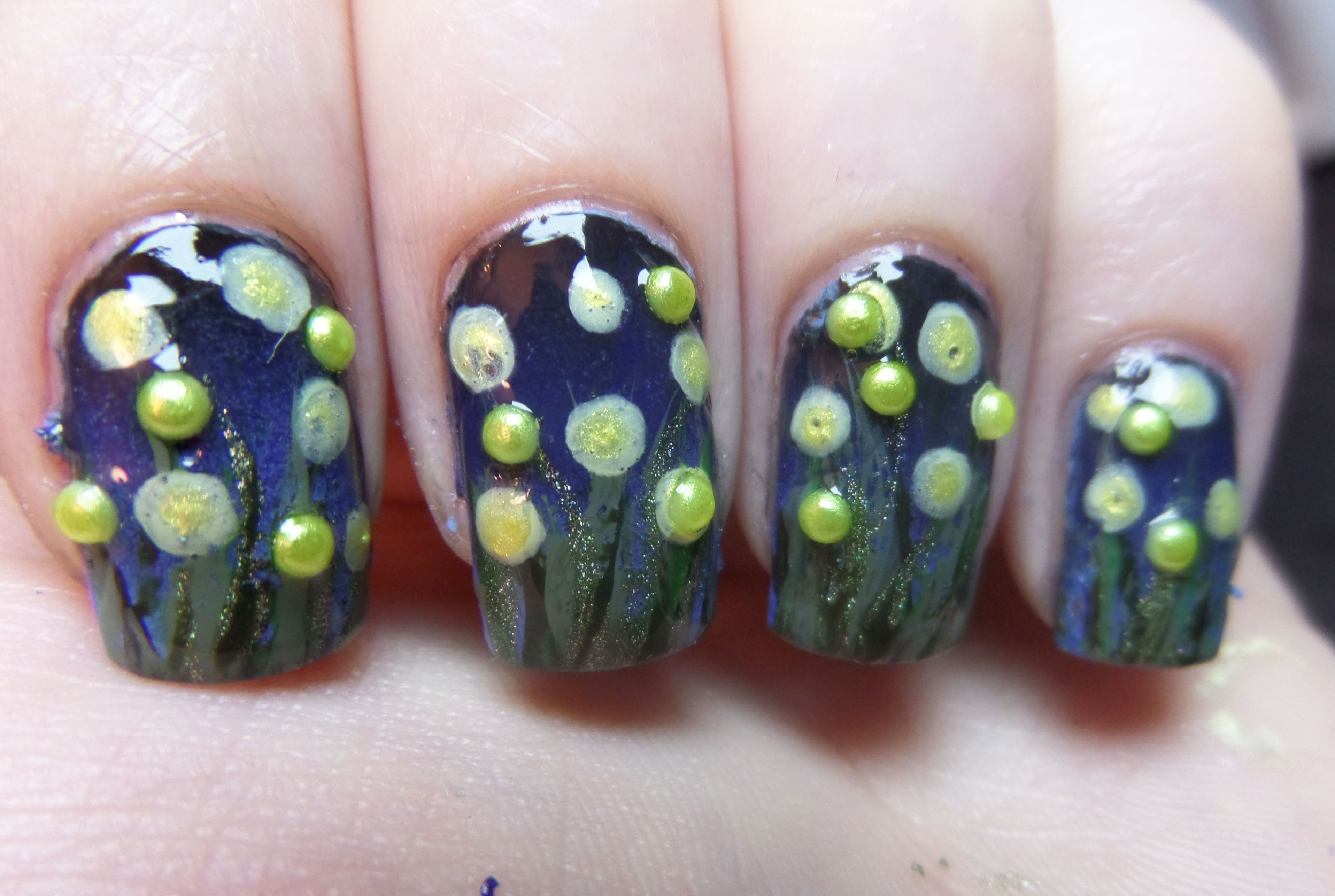 Added some yellow pearls for a sort of 3d element that makes me think of glowing.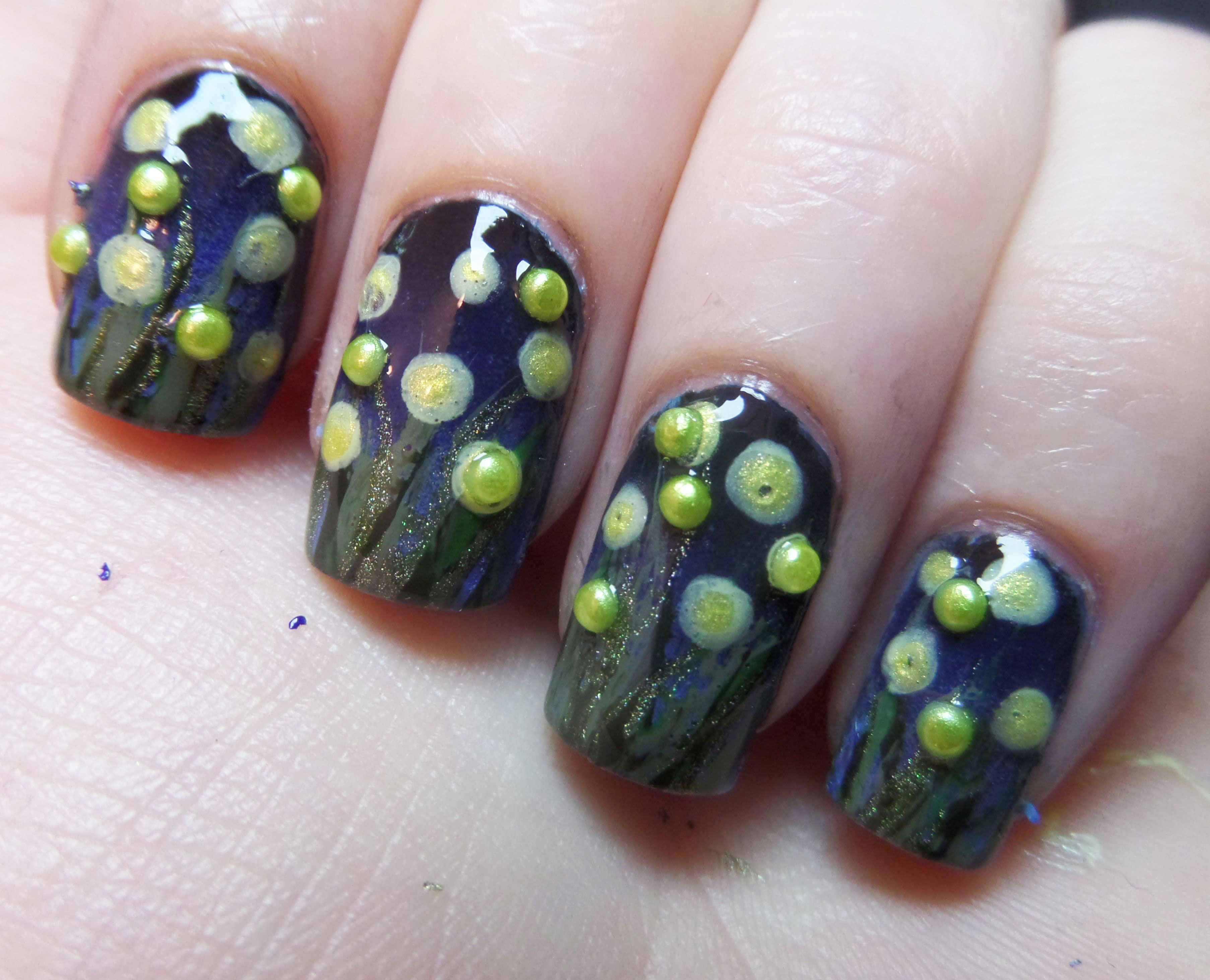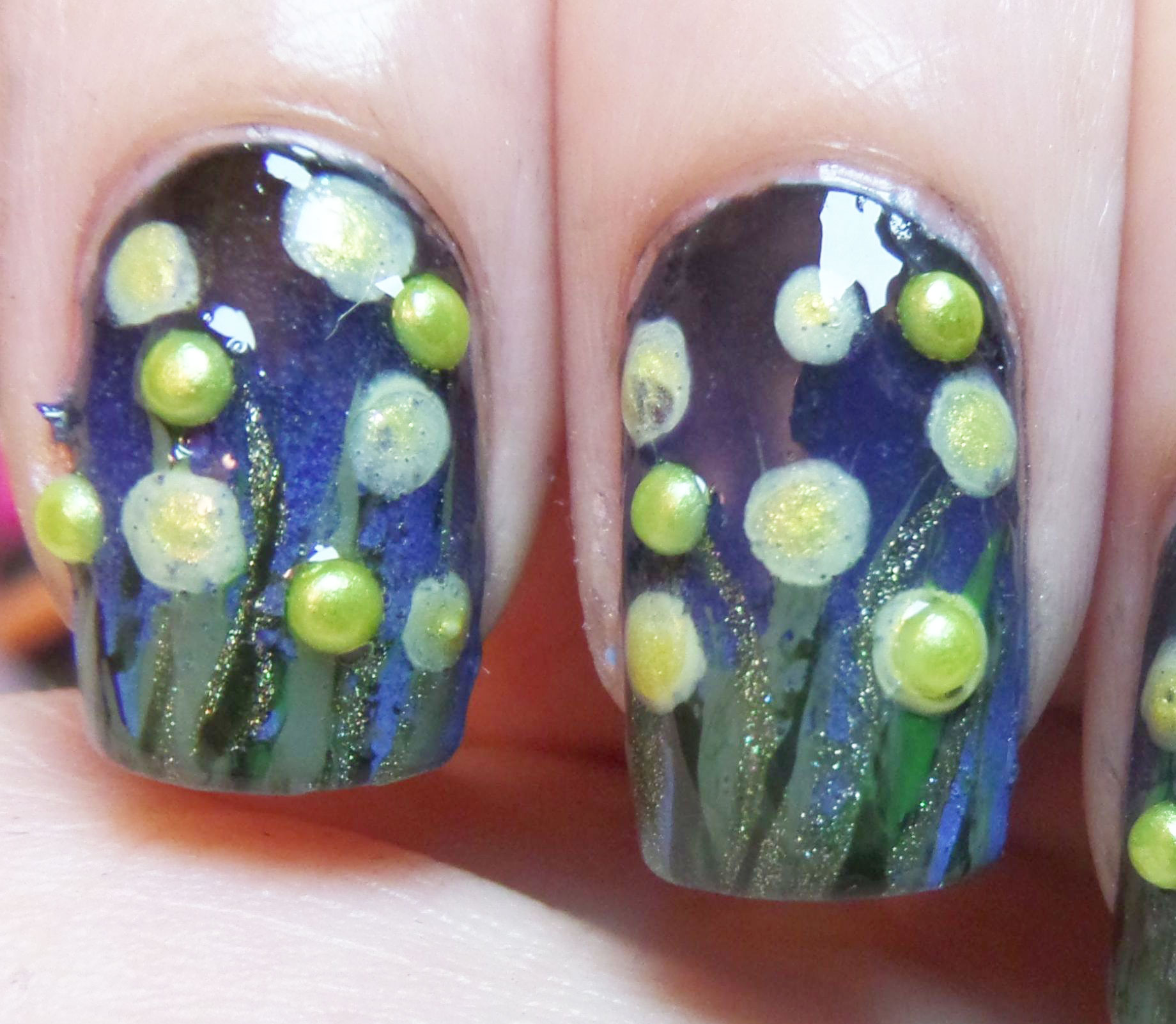 The hardest part of this manicure for me was choosing the 3D element. I wanted rhinestones for their sparkle, but the only rhinestones I had in the color I liked felt too big and the wrong shape. I used them on my right hand, and honestly, even though I had my doubts about them, I actually ended up liking my right hand much better!!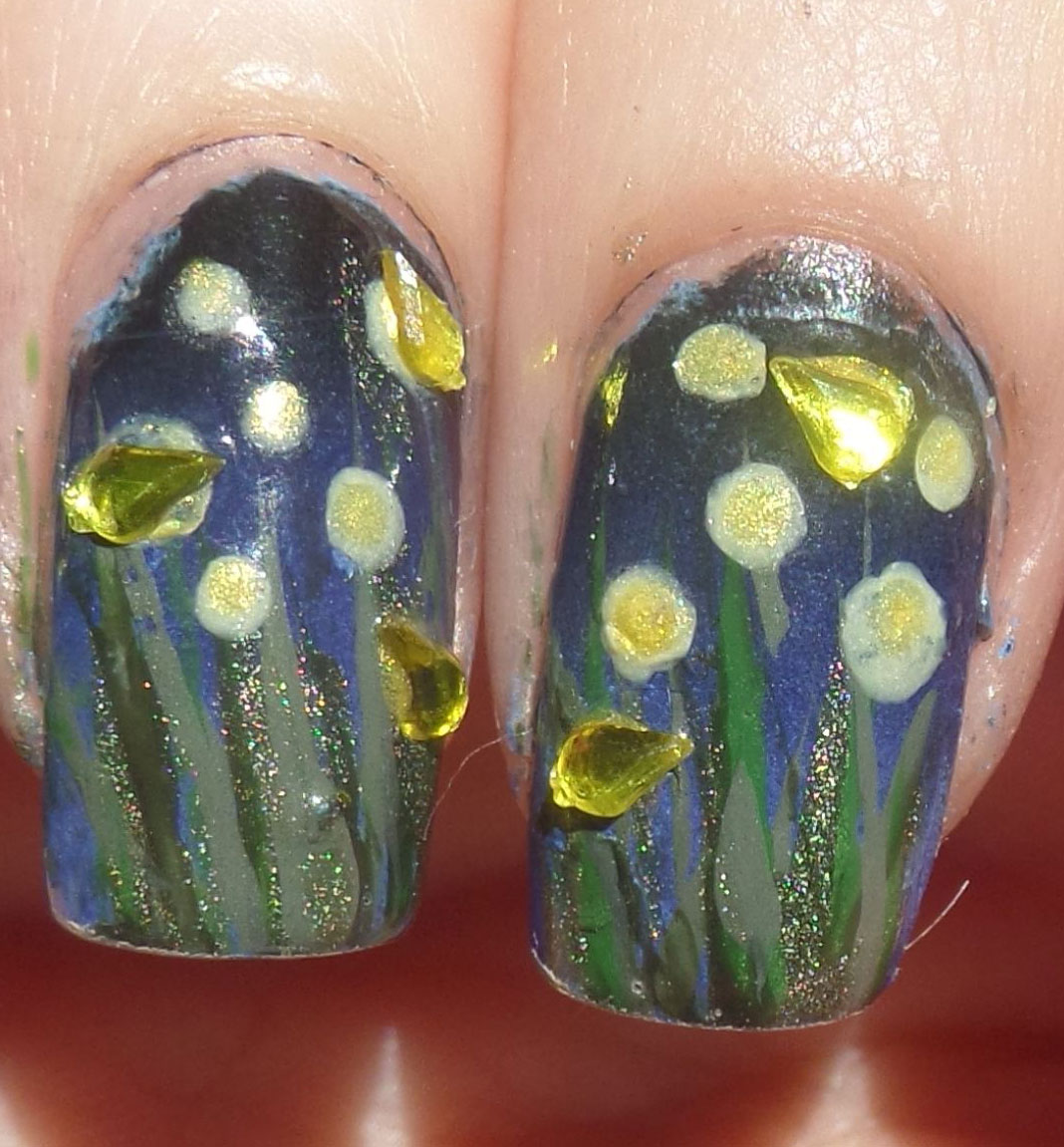 I love how the polish kind of represents the fireflies that are further away and glow, and the rhinestones are the fireflies that light up much closer to you and blink brilliantly.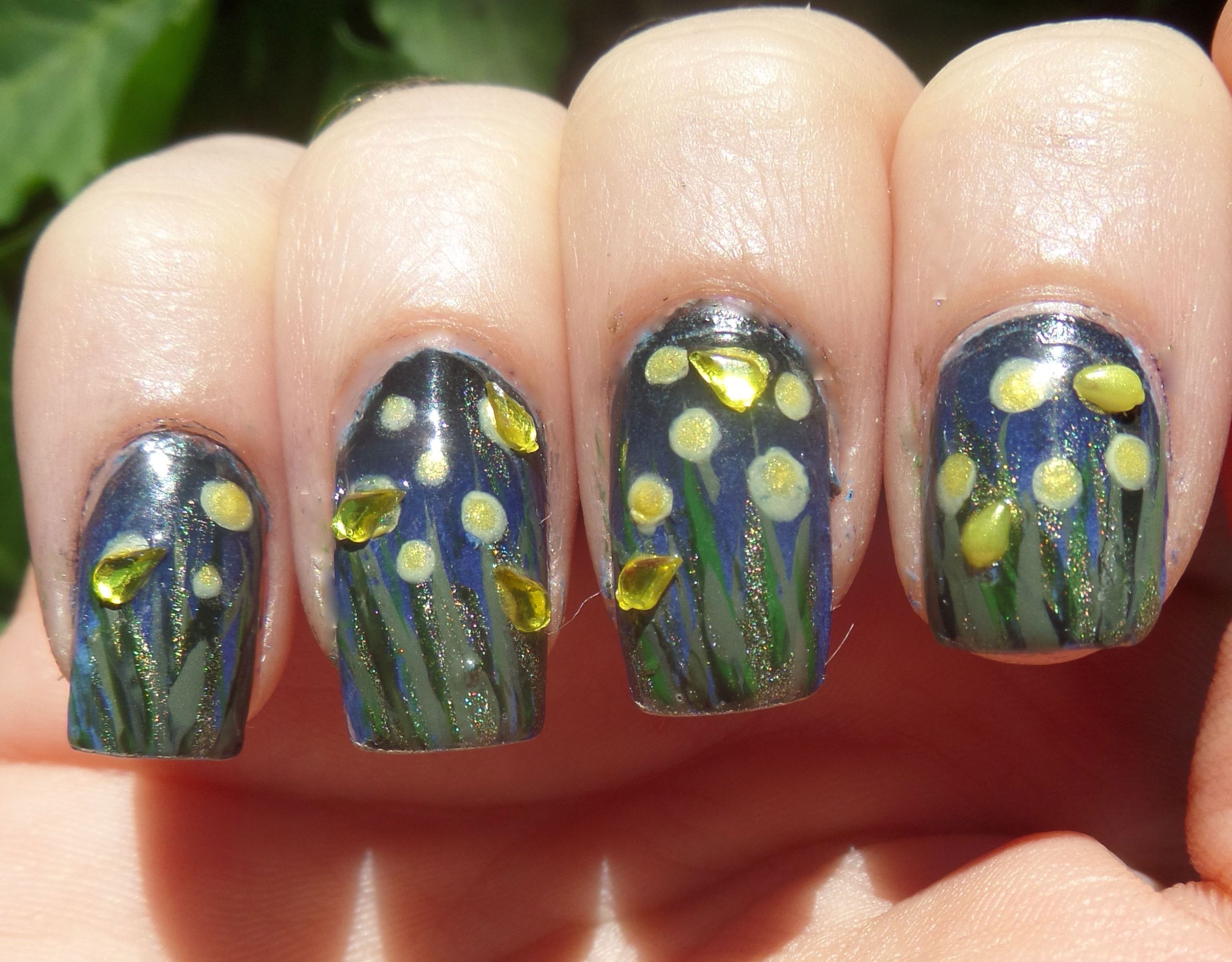 Sorry for all the pictures, I just can't handle how much I like this manicure!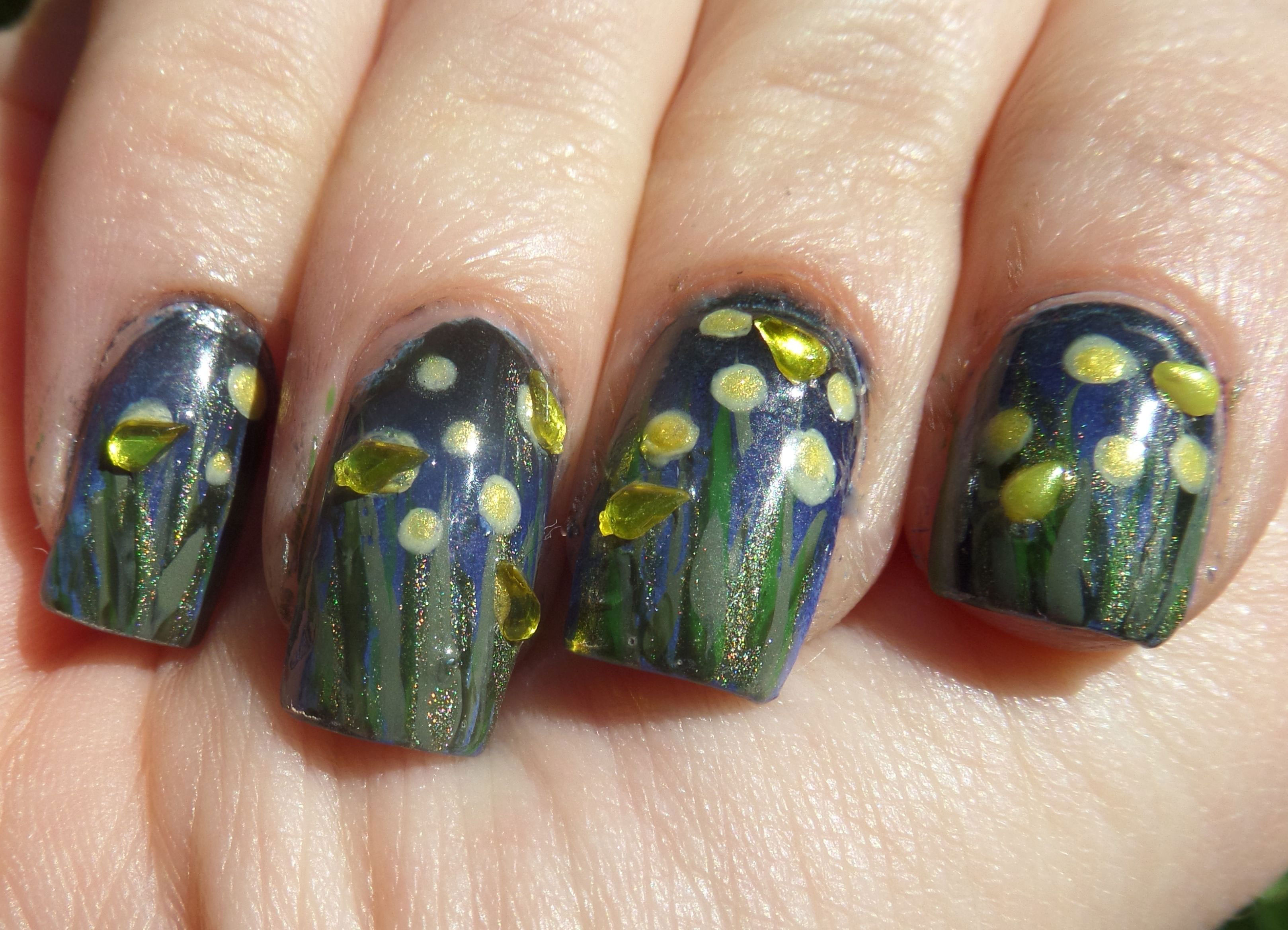 Also sorry for my messy cuticles! Taking photos of my right hand was kind of an impulse decision while I was at work so I did not clean them up quite as nicely the night before. However, this also means I have photos I took in direct sunlight and you can see the brilliance of the holographic Kale a little better.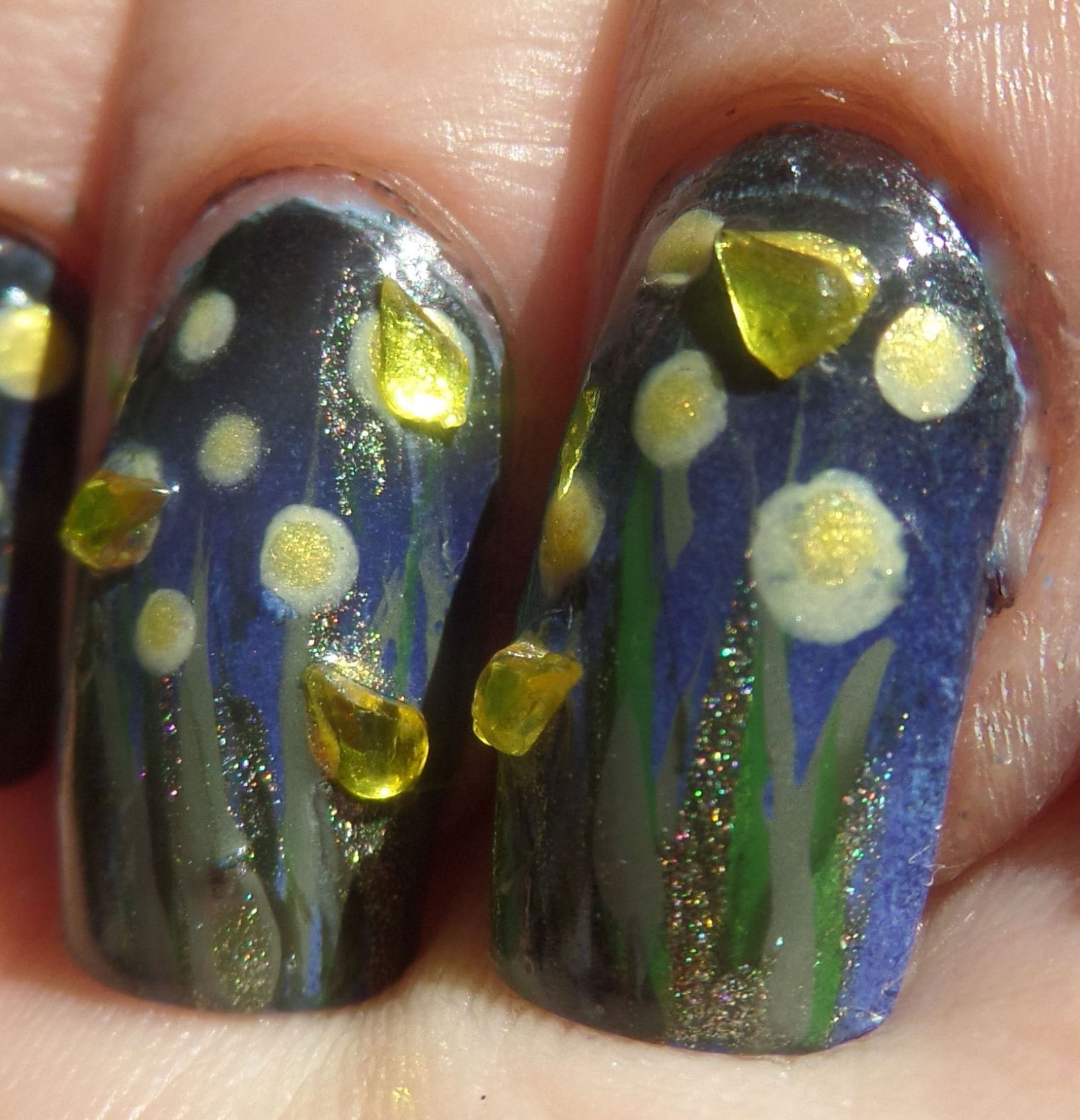 Of course, the fireflies glow, but I won't be able to get a picture of that until I find my blacklight!
Don't forget to check out the other manicures and vote!