So anyone who knows me at all knows I have a fear of zombies that borders on a phobia, particularly considering just how irrational that fear is. It doesn't necessarily interfere with my everyday life, although I cannot even handle watching Shaun of the Dead and whenever I walk alone in the dark, I'm always certain in the back of my head that a zombie will suddenly attack. It's fine though; I have a contingency plan in the event of a zombie apocalypse since I know I would not be able to make it on my own. (It involves a sexy Army Ranger, so I think I'll be okay ;) )
Despite this, I caved and made some zombie nails, partially because I had been craving an army green polish recently and this gave me one more excuse to buy one.  I'm pretty pleased with the results, although I was disappointed that I could not find a dark red jelly to make the blood look even cooler. The sad part is, I know I used to own the perfect Essie polish a long time ago. (I remember it specifically because my mom got it for me for Christmas one year. Also because I own very few higher-end polishes).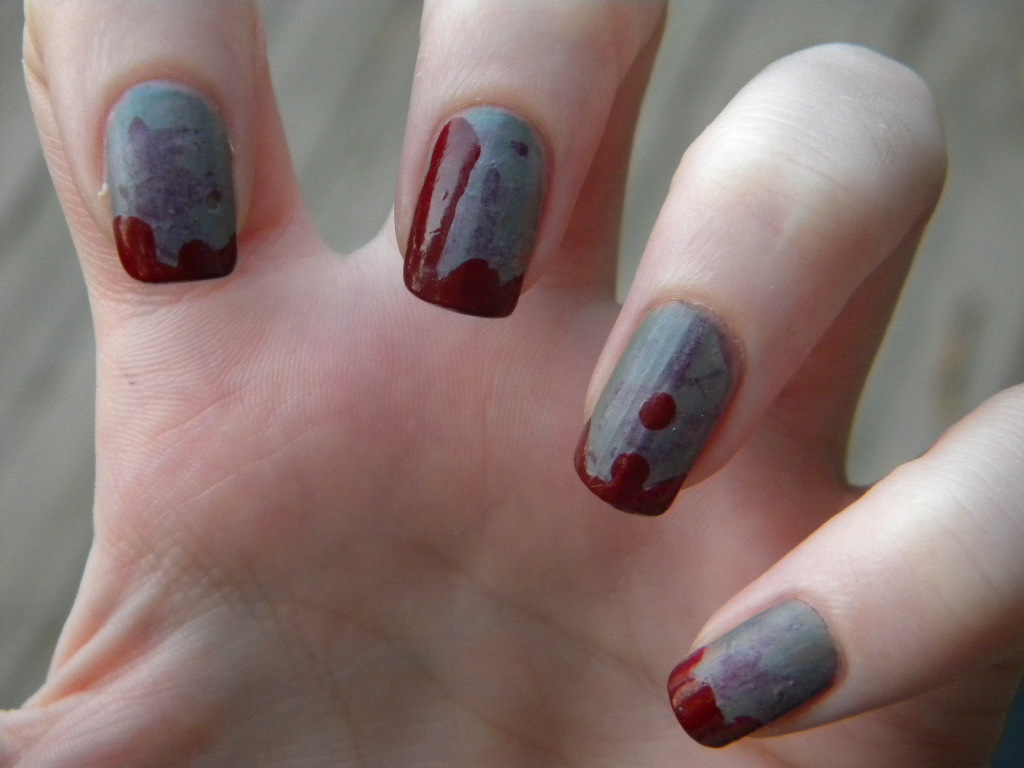 To make these, I painted my nails the sort of army green (L'Oreal has a beautiful one this season) and then sponged some nude colors on top to try to make it look like mottled skin that had once belonged to a live human. The artistic choice I was most proud of though, was swiping the red in erratic, sharp thin lines on the makeup sponge I was using, then quickly stamped it in different directions on the nails to look like multiple superficial wounds. This of course was topped with a matte coat (NYC–sold by Walmart–makes one and I HIGHLY recommend buying it if you have ever wanted to try matte but shied away from buying one of the more expensive brands of top coats in case you ended up hating it. $2 is definitely worth a try and it works very well).
I have not been able to locate my nicer bag of makeup sponges so I have been using these ones made by NYC and they are really crappy. (Ironic, given my rave reviews of their polishes). But after using them a few times for sponging they start coming off on the nail. I guess it's not so bad to have lumpy zombies, but I really need to find my other ones for next time I want to stamp. They just work better.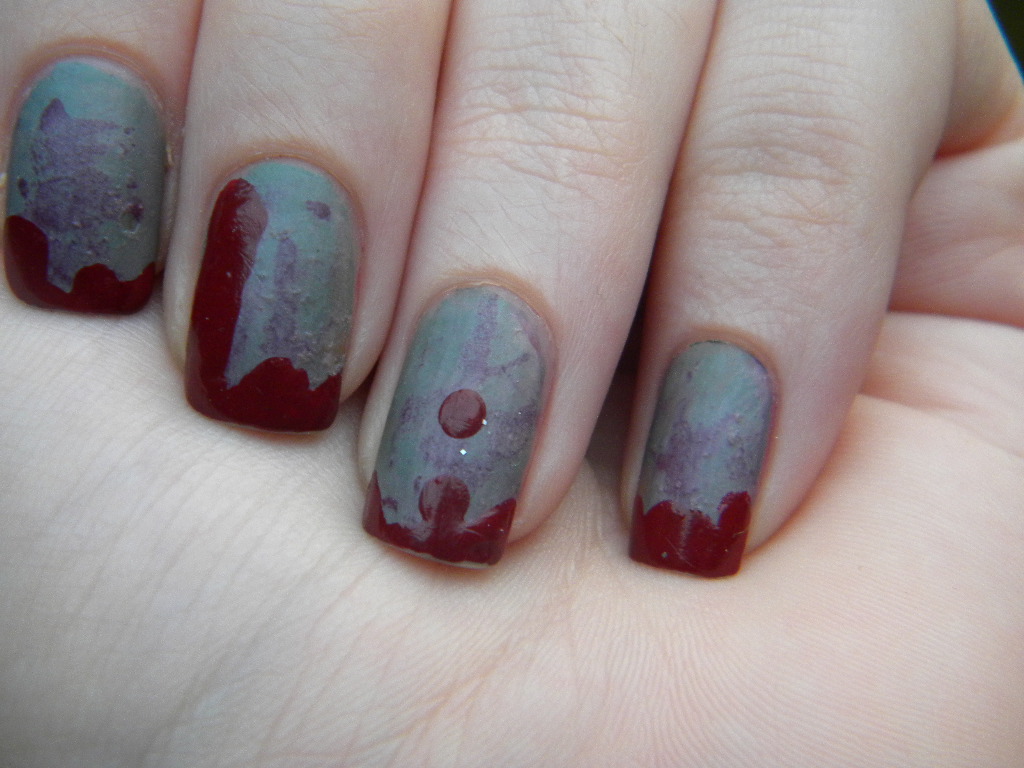 You can sort of see the texture in this photo. It's worst on my index and middle fingers.